Atlantic Port of Bordeaux simplifies all the port transit formalities for you
Atlantic Port of Bordeaux is your one-click port of call!
Tags:
Port information systems: VIGIE2 and expertise

Discover VIGIEsip
What does VIGIE2 do?
VIGIE2 is a web application that is easily accessible online with a guaranteed level of security (HTTPS). VIGIE2 is compatible with all browsers: Internet Explorer, Firefox and Chrome.
VIGIE2 is what is known as a "Port Community System", an information system that allows the people involved in the life of the port to work together safely.
VIGIE2 is used by the Harbour Master's office, captains, docking pilots, tugboats and consignee agents to organise port life:
To ensure the flow of useful information for organising port calls
To manage port call priorities
To ensure safe transit through the port via VTS (radar systems) and AIS connections
VIGIE2 ensures:
Compliance with reporting requirements: European Directives 2002/59/CE –Traffic 2000/SafeSeaNet, 2009/16/CE – Erika III package, waste
Traceability of port charges
Collection of port statistics, in particular through the port charges module developed for Port la Nouvelle
VIGIE2 can be interfaced with many systems:
Radar operating systems

SYTAR by SIGNALIS (ex-SOFRELOG) like in Bordeaux and Guadeloupe
ORCA by Pégase Systems like in Sète

Freight logistics management systems (Cargo Community System)

AP+ marketed by MGI like in Bordeaux and Sète
AP+ marketed by SOGET like in La Rochelle and Guadeloupe
Who uses VIGIE2?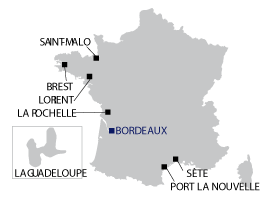 The Bordeaux system can be exported!
8 ports currently use VIGIE2, the Atlantic Port of Bordeaux port authority information system:
VIGIE2 at the heart of the port information system
If your port processes significant import and export flows of containers and bulk:

Port transit formalities are complicated and multiplied because of containers and their clearance
Establishing port statistics and codifying goods with the current transport classification (NST) is tedious
Monitoring port revenues  (port charges) is difficult due to the volume of customs declarations
⇒ VIGIE2 must be connected to a CCS (Cargo Community System) such as AP+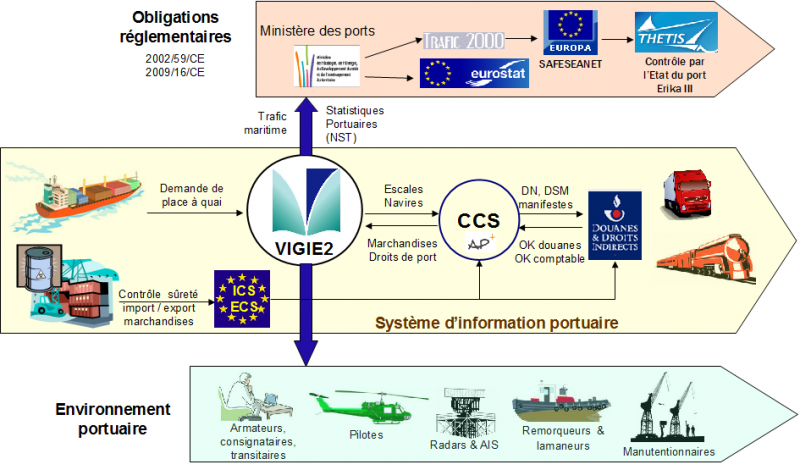 If your port mainly processes bulk or limited intra-community flows of containers

The volume of declarations is less
Despite simpler formalities, traceability of port revenues remains essential for the management of your accounts 
⇒ then VIGIE2 is sufficient for managing your port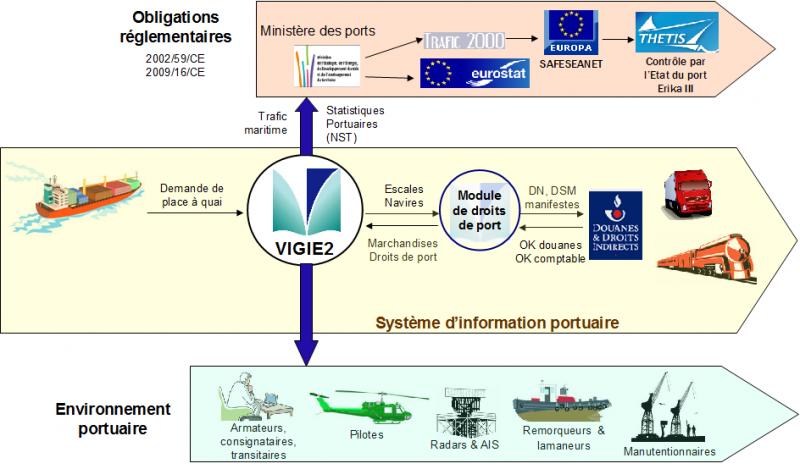 Our services to support you
Auditing your information system and organisation
Many ports (including Guadeloupe and La Rochelle) have turned to Atlantic Port of Bordeaux to review their information systems and the organisation of their IT services.
The Atlantic Port of Bordeaux's expertise is based on the many technical accomplishments of its teams for its own needs:
Instrumentation of the Pont de Pierre in Bordeaux to ensure the passage of Airbus barges
Project ownership and project management to install coastal radars, DGPS devices and WAN, Wi-Fi and LAN networks
Virtualisation of the IT infrastructure since 2004 (servers and storage)
Developing open source software: Talend, PostgreSQL, Linux, Python, and AJAX...
Etc.
Atlantic Port of Bordeaux can act in its own name or in support of a consultancy firm (Eurogroup, Ernst & Young...).
Helping you express your needs and prepare your procurement contracts
Following the audit assignments listed above, some ports have looked to Atlantic Port of Bordeaux to provide project management assistance that may lead to full drafting of a procurement contract or just specific technical specifications (STS). For example, the port of La Rochelle asked Atlantic Port of Bordeaux to help establish its internal computer network.
Atlantic Port of Bordeaux therefore builds on its organisation and internal skills to serve ports that request assistance.
Adapting VIGIE2 to your needs and assisting you in its implementation and monitoring
A tool for managing ports of call must always adapt to local organisational and geographic specifics while remaining compliant with European regulations. The Atlantic Port of Bordeaux teams are well aware of this thanks to the various projects undertaken in client ports. This experience combined with proven expertise in port information systems – Atlantic Port of Bordeaux represents French ports at the International Maritime Organisation Maritime on work to simplify port transit formalities (FAL group) – allows a perfect understanding of the issues of each port.
Atlantic Port of Bordeaux supports you throughout the entire life cycle of your port information system project:
Prior analyses

Analysing the existing operation
Identifying local specifics
Developing new procedures for collaborative work
Formalising specifications adapted from VIGIE2 and interfaces with existing systems

Technical implementation

Carrying out necessary software developments
Setting up the technical infrastructure: for hosting by the port of Bordeaux or for an installation in your port Testing and validating

Support during changes

Training users and functional referrers
Assisting the project owners (Harbour Master's office) to communicate with end users

Monitoring developments as part of a maintenance contract

Ensuring corrective software maintenance
Ensuring minor regulatory developments
Ensuring a response time and support for referring users: hotline
These features have allowed Atlantic Port of Bordeaux to win public calls for tender initiated by its clients and to take part in industrial consortia in response to national procurement calls for tender.
Useful links
VIGIE2 awarded by the IGN as part of the Géoportail 2011 competition
Documentation on VIGIE2: ask for the  training manual by email at innovation@bordeaux-port.fr
Client ports:

Brittany ports
"South of France" ports

Other people are talking about it...
All Atlantic Port of Bordeaux services