Exportation of cereals, wood, paper, wine, energy products, recycling, importation of raw materials for chemicals and energy ...
A broad range of cargos passes through Atlantic Port of Bordeaux.
Tags:
Areas of trade

In order to offer first a class service to all types or trade, from traditional sectors to new technologies, the Port of Bordeaux has 7 specialised terminals: Le Verdon, Pauillac, Blaye, Ambès, Grattequina, Bassens and Bordeaux. To improve its competitiveness, while at the same time preserving its environment, the Port invests approximately €15 million every year, on top of the investments made by private companies located on the Port.
Containers
This is a high added-value trade for the port community, as container traffic is connected to the main commercial and industrial activities of the South West. In Bordeaux, container traffic is essential and growing rapidly (18,000 EVP in 1995, 61,500 in 2011), with two well-known worldwide operators (MSC and CMA CGM).
MSC and CMA CGM each serve more than 300 ports worldwide every week with reliable, regular routes adapted to meet industrial and commercial demand.
2 terminals for container traffic
Le Verdon: an accessible outer port with a 12.5 m draft, 3 quayside berths, 2 gantry cranes, over 600 m of quays, a warehouse of 12,000 m², plenty of available land, a rail network linking the port to the Bordeaux area, terminals which meet all ISPS standards
Bassens: a multi-purpose terminal, close to the city of Bordeaux and its main connection routes, 10.5 m draft, 2 quayside container berths, 2 high capacity cranes, containers stores, terminal ISPS standards
Atlantic Port of Bordeaux, your port of call in a single click
The formalities of port passage are simple: booking berthing space, customs clearance, statement of port rights ... Compliance with regulations is guaranteed by complete software integration, using the latest technology: AP +, VIGIE2, DELTA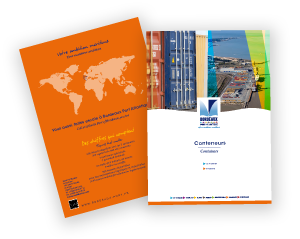 Load your cargo in Bordeaux and cut down costs:
Loading your containers in Bordeaux, is a way to save on pre-transport costs, help reduce the carbon footprint of your transported load, save time on customs clearance, and contribute to the reliability of the logistical supply chain.
Hydrocarbons and chemical products
The 'hydrocarbon cargo' sector covers all traffic relating to petroleum products. The Port of Bordeaux handles between 4.2 and 4.7 million tons of hydrocarbon products per year, 90% of which are imports and 10% exports. This sector represents over half of the Port's overall annual traffic. There are multiple imported products including (petrol, diesel-oil, jet fuel, domestic fuel, fuel oils, GPL​, bitumen, biofuels and crude oils). Unloading of these products takes place mainly in Pauillac, Blaye or Ambès. Atlantic Port of Bordeaux is the biggest hydrocarbon hub in the South West of France.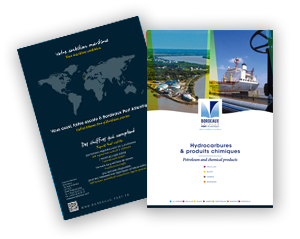 The handling of chemical products takes place primarily on the Ambès peninsula and at Bassens, and constitutes one of the Aquitaine region's two major industrial sites. With an average of 100,000 tons of goods imported annually (excluding ammonia), the numerous imported products form a diverse range including (methanol, butadiene, tall oil, turpentine and other basic chemicals).
Aggregates and minerals
The marine importation of aggregates developed in Aquitaine as a result of large consumption in the region, with demand reaching 3 million tons per year. To meet this demand, Atlantic Port of Bordeaux has two operators in Bassens and another terminal Grattequina, who are themselves, capable of supporting the needs of all local construction sites.
This method of supply eliminates the need for lorries to cover trips of medium and long distances, and is thus more environmentally-friendly.
The maritime supply of aggregates is therefore a sustainable solution to GES reductions in the Bordeaux area, the department and the region.
Quartz is pre-sent in full by rail from the quarries of Clairac (in the Lot-et-Garonne region) by the company IMERYS. This material is then loaded onto small capacity vessels (3,500 tons) ready to be shipped to Norway (about 20 kt /30 kt per year), where it is then crushed, to be used particularly in the manufacture of electronic components.
Timber and forest products
Tropical wood, Northern European sawn timber, local wood, wood felled by storms, chips and pellets, containerised wood, logs or packaged timber... Maritime transport of wood has always benefited from the expertise of a wide variety of professionals within the Port of Bordeaux community: consignee agents, pilots, shipmen, stevedores, crane operators, re-fuelling technicians. For several years Atlantic Port of Bordeaux has been a real centre for wood traffic, with about 11 hectares in Bassens-Amont, which has the necessary facilities for:
Receiving vessels
Handling goods
Storing of goods (central reservations and warehouses)
Installations for trading companies
On a daily basis, both logs and lumber are imported for use in local construction and furnishings. 4 operators are installed on the quayside, and working in three main sectors:
Silverwood:  Imports of panels, joinery wood, frames structures, cladding
Sinbpla: Imports of wood from Scandinavia, Russia the Baltic
Stora Enso: Imports of wood from Northern Europe
Jammes: Imports of exotic wood
Exports are mostly local wood (Landes pine) leaving Atlantic Port of Bordeaux in containers in the form of parquet, panelling or lumber.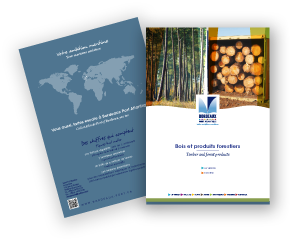 Atlantic Port of Bordeaux intends to consolidate this traffic, with an objective for smart growth, based on trade in tropical timber and on the development of pellets and wood chips.
Atlantic Port of Bordeaux is a member of "Le Commerce du Bois" (LCB), an association formed by professionals of the French sector of timber trade (agents, importers and wholesalers).
Coal and petroleum coke
These products make up the mineral fuel division of Atlantic Port of Bordeaux, essentially consisting of coal and petroleum coke.
Coal, an organic plant matter is used in this sector of the industry, whereas petroleum coke is a by-product of oil refineries.
Constraints associated with competing energy resources (rising prices in oil, natural gas etc) and the abundance of coal reserves in the world, means that the future of energy supply faces significant environmental challenges. At Bassens, close to the coal terminal, are the manufacturers Michelin and Lafarge, who are emblematic of this trade.
Atlantic Port of Bordeaux intends to strengthen this sector and create an alternative route which will benefit maritime links.
Industrial bulk
Cement, clinker (the stony residue from burnt coal), slag, scrap metal, refractory clays, shredded tires, bulk liquids, solids or dry products ...so many different industrial trades can be found at Atlantic Port of Bordeaux.
Bulk food and cereals
The cereals sector includes all trade in corn, sorghum and straw cereals such as wheat and barley. Corn remains the biggest cereal crop in the South West, with around 1 million tons exported from the port of Bordeaux.
At the heart of three cereal growing regions – Aquitaine, Poitou-Charentes and Midi Pyrénées – Atlantic Port of Bordeaux is a key partner of the cereals and oilseeds industry, which accounts for around 15% of the port's annual traffic. With structural changes made in the period 2010-2011, the distribution of cereals at Atlantic Port of Bordeaux has been updated to accommodate a strong development in wheat exports. With this new breakdown in traffic, Atlantic Port of Bordeaux has an increasing number of importers from North Africa as well as the usual importers from the neighbouring regions of Southern Europe and the United Kingdom. These new markets, combined with the quality of the cereals produced, allow multi-cereals companies to develop trade and strategic networks for the future.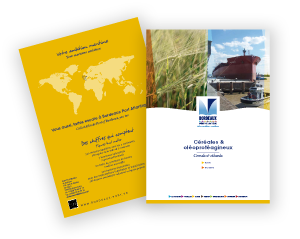 With 600,000 tons of grain or oil or cattle cake imported/exported annually, Saipol is one of the key players in the oilseed industry, boosting traffic at the Port of Bordeaux and redirecting it towards the export market (sunflower seed meal, rapeseed meal) in return for the soya meal imported. The Port of Bordeaux handles 20,000 to 35,000-ton ships for grain imports. A benchmark in the oilseed industry, the Bassens site stands out for its supply chain which excludes road transport. The grain arrives by ship or train and is unloaded, then dried by the Saipol plant. Part of the oil produced is then used to manufacture biofuel, which is in turn exported by sea.
Fertilisers and raw materials
The fertiliser and raw materials industry is one of Atlantic Port of Bordeaux's leading sources of traffic, accounting for about 600,000 tons per year, 7% of the total tonnage. The importance of this sector is directly related to the agricultural characteristics of the Aquitaine region. Atlantic Port of Bordeaux handles a large range of fertilisers, requiring a certain level of expertise in terms of the unloading of ships and storage of products. With approximately 300 kt of imported manufactured fertilisers per year, the port is specialised in receiving this sort of cargo, in particular fertilisers such as ammonia, potash (white powder fertiliser) and other fertilisers such as liquid nitrogen solution.
Nowadays ammonia is imported exclusively by sea by Yara Ambès to be processed into fertiliser. An important development in these imports is expected in the coming years, especially with the disposal of GES on a European level.
Wind energy industry
Set on Europe's largest estuary, Atlantic Port of Bordeaux benefits from a great location right next to the Atlantic seaboard with direct access to onshore wind turbine markets in the South West and offshore markets in Western Europe and North Africa. The Port of Bordeaux also plays a strategic role in the development of the Aquitaine region, and as such is directly involved with energy projects, providing a crucial asset: vast areas of land dedicated solely to industrial-maritime projects.
Atlantic Port of Bordeaux is a member of the Aquitaine Wind Energy Cluster, an initiative that brings together local industrial leaders and supports renewable energy projects.
Atlantic Port of Bordeaux offers additional and specialised terminals for the heavy lift cargo sector and the handling of wind turbines:
Le Verdon: ocean port in deep water, 12.5m draft, 3 quayside berths, a 12,000 m² wareouse, and vast area of available land
Grattequina: 7th and newest terminal on the left bank, close to the Blanquefort Ecoparc
Bassens :  the closest terminal to the Bordeaux agglomeration and the major intermodal transport connections
Atlantic Port of Bordeaux: a real opportunity for development in the wind energy industry.
Cruise ships
As a prestigious stopover destination, Bordeaux is one of the few European cities that gives cruise ships of up to 250m the chance to dock in the heart of the city, in the centre of a UNESCO Wolrd Heritage site packed with restaurants, shops and cultural attractions ... this call offers passengers the opportunity to truly explore and enjoy Bordeaux. There are two additional options for cruise ship docking, allowing operators to make a decision based on ship size and itinerary: Bassens, on the right bank near to Bordeaux, and Le Verdon, a deepwater port at the mouth of the estuary, the gateway to the Médoc region and its world-famous winemaking châteaux.
All Atlantic Port of Bordeaux services