Atlantic port of bordeaux facilities are ideally located
Atlantic Port of Bordeaux's infrastructure is ideally located in the Bay of Biscay along one of the world's busiest shipping routes, with very short deviation time.
The Bassens drydock (drydock 3) measures 240 meters long by 35 meters wide
The Bacalan slipway can accommodate 5 vessels at the same time, with maximum dimensions of 60 meters long and 12 meters wide
The Bacalan drydock 1 measures 150 x 22 meters
The Bacalan drydock 2 measures 100 x 17 meters
We offer tailor-made solutions at all our sites, including living quarters, handling solutions, mobile warehouses, drydock covers, scaffolding and more.
The teams at Atlantic Port of Bordeaux will set up the keel blocks for your ship according to your instructions. If you do not have any keel block plans, a study can be done by the Port of Bordeaux.
DISCOVER ALL THE PORT SHIPYARD SITES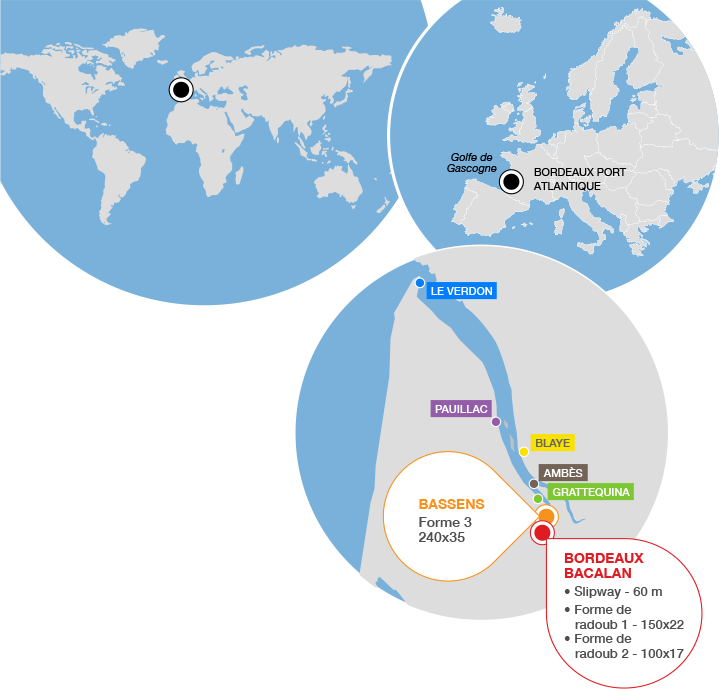 Do you have questions? Contact us
Contact our experts for a quote.